6/42 LOTTO RESULT – The 6/42 Lotto results today November 30, 2023, released by the Philippine Charity Sweepstakes Office (PCSO) at 9 PM.
PCSO is carrying five major jackpot-bearing games and two major digit games in the Philippines. View the 6/58 Lotto result, 6/55 Lotto result, 6/49 Lotto result, 6/45 Lotto result, 6/42 Lotto result, 6D Lotto result, and 4D Lotto results.
6/42 Lotto Result Today
Here are the 6/42 results today's official updates:
6/42 Lotto
6/42 Result
(in any order)
Winning Combination
(November 28, 2023)
37-35-41-05-23-07
Jackpot Prize
Php 23,680,523.20
Jackpot Winner(s)
*
Rest assured and check back here for the latest details on the winning numbers, the jackpot prize, and the lucky winner.
Check also other PCSO lotto results here – Lotto Result Today, SWERTRES Result Today, EZ2 Result Today, 4D Result Today, 6D Result Today, and STL Result Today game results.
6/42 Results History
Aside from today's results, you may view the 6/42 Lotto results history and summary for 2023 or Refresh the page for the updated Lotto results today…
The agency runs a jackpot-bearing game 6/42 Lotto every Tuesday, Thursday, and Saturday. Philippines' first national lottery game, the Lotto 6/42, is one of five major lotto games of PCSO, including the Ultra Lotto 6/58, Grand Lotto 6/55, Super Lotto 6/49, and Mega Lotto 6/45.
The Cost of a Lotto 6/42 ticket?
The #Balikbente program now values all jackpot-bearing lotto tickets at P20.00. These tickets can be purchased from the closest authorized PCSO lotto outlet and include the Documentary Stamp Tax (DST).
How to play the 6/42 Lotto?
In order to play, select six (6) numbers from 1 to 42. These numbers can be in any order. Place your bet by presenting your selection slip and payment to the authorized PCSO lotto outlet.
Wait for the PCSO draw results announcement and check if you won. Prizes can be claimed at any PCSO Branch Office or at the PCSO Main Office in Pasay City.
Category
Winning Nos.
Prizes
1st Prize
(Initial Jackpot)
6 out of 6 Numbers
Php 5.94 Million
(net of agent's prize commission)
2nd Prize
5 out of 6 Numbers
Php 24,000.00
3rd Prize
4 out of 6 Numbers
Php 800.00
4th Prize
3 out of 6 Numbers
Php 20.00
Those aspiring to become millionaires should purchase their tickets before 8:00 PM, as the Philippine Charity Sweepstakes Office will not accept any wagers after that time. Tickets will go on sale starting at 7:00 AM and will continue to be available until 8:00 PM. The official lottery draws will take place at 9:00 PM.
How to claim the 6/42 Lotto Prize?
For the legit winner, write your name attach the signature to the back of the winning ticket, and prepare two (2) valid IDs for verification. Go to the nearest outlet, present your ticket, and wait for the validation After validation collect your winning money.
Below P10,000 winning money can be processed at the nearest PCSO outlet, for the above P10,000 and up, go to the nearest PCSO Branch and the PCSO agent from whom the winning ticket was bought will also receive a 1% commission. Prizes that have not been claimed within a period of one (1) year will be forfeited.
| Winning Amount | Where to claim? |
| --- | --- |
| Php 20.00 up to Php 10,000.00 | Authorized PCSO outlet near you |
| Php 10,000.00 up to Php 300,000.00 | PCSO Branch near you |
| Jackpot Prize | PCSO's Main Office is located at Shaw Boulevard, Mandaluyong City |
Note: PCSO takes great care to ensure all winning tickets are legitimate. Furthermore, if someone attempts to redeem a prize with a counterfeit or altered ticket, they will not be recognized and the prize will not be awarded.
Draw Schedule of PCSO Lotto Games:
PCSO Lottery is a popular game in the Philippines and playing PCSO Lotto is an exciting and thrilling adventure from start to finish. If you are a fan of the PCSO lottery and are looking for the results, remember specific draw dates and come to check exactly and quickly. We also offer the latest STL lotto results. Wish your lucky star shines upon you!
Here is the PCSO lotto result schedule:
| Lotto Games | Draw Day | Draw Time |
| --- | --- | --- |
| 6/58 Lotto | Tuesday, Friday, and Sunday | 9 PM |
| 6/55 Lotto | Monday, Wednesday, and Saturday | 9 PM |
| 6/49 Lotto | Tuesday, Thursday, and Sunday | 9 PM |
| 6/45 Lotto | Monday, Wednesday, and Friday | 9 PM |
| 6/42 Lotto | Tuesday, Thursday, and Saturday | 9 PM |
| 6D Lotto | Monday, Wednesday, and Friday | 9 PM |
| 4D Lotto | 2 PM, 5 PM, and 9 PM | 2 PM, 5 PM, and 9 PM |
| 3D Lotto | Monday to Sunday | 10:30 AM, 3 PM, 7 PM, 8 PM |
| 2D Lotto | Monday to Sunday | 2 PM, 5 PM, and 9 PM |
| STL Pares, Swer3 & Swer2 | Monday to Sunday for Visayas and Mindanao | 8 PM |
| STL Swer4 | Monday to Sunday for Mindanao | Tuesday, Thursday, and Saturday |
Note: Mindanao Region STL draw revised the evening schedule from 7:00 pm to 8:00 pm on March 23, 2021.
PCSO Reminders
Recently PCSO announced bettors can't buy tickets online via any website. they can only buy tickets from their authorized outlets.
Minors are strictly prohibited from playing any of the PCSO games. Only eighteen (18) years old and above are allowed to play.
Scams are rampant either online or offline. Secure your tickets and only claim the prize at the authorized lotto outlets to prevent such.
About PCSO
PCSO is a government-owned entity tasked to do fundraising to provide funds for health programs, medical assistance, and charities.
This game show aired on the Philippine Television Network (PTV) for fixed-prized lottery and sweepstakes games. There are also plans to make PCSO games online to gain more bettors resulting in bigger funds.
For more clarifications regarding the PCSO lotto products and services, you may contact them using the details below:
Address: PCSO Main Office, PICC Secretariat Bldg, CCP Complex, 1307 Roxas Blvd., Pasay City
Telephone Numbers:: (02) 846-8895; 846-8894; 847-8741
PCSO Lotto Result Today Updates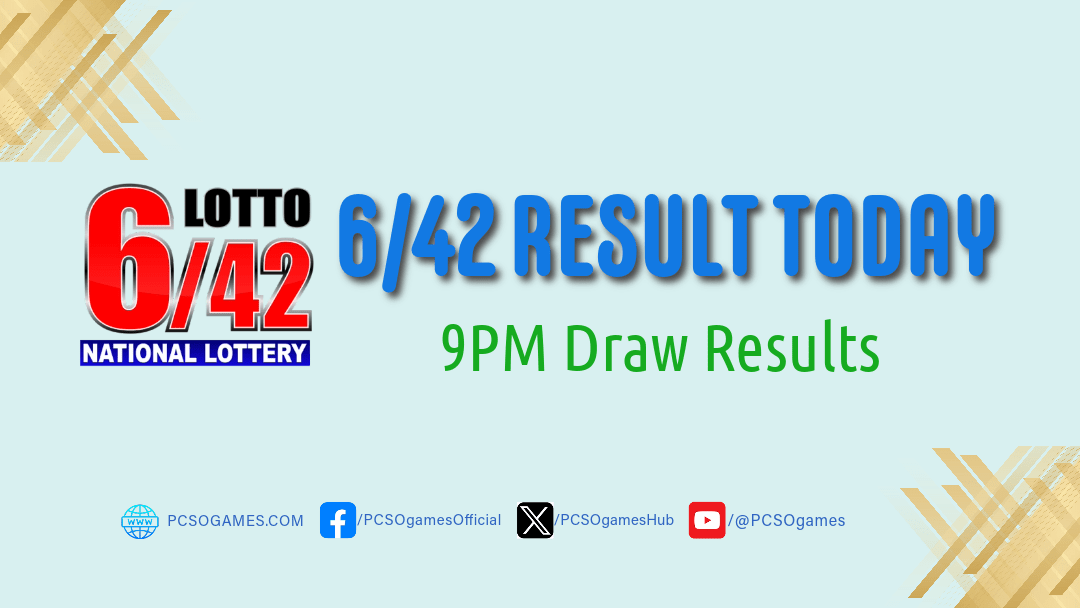 Dear Viewer, to receive our timely updates on PCSO lotto results, and 3D draw results, bookmark this page or visit the PCSO's official website. PCSO is also doing a recap of daily draw results at the 2 PM, 5 PM, and 9 PM nationwide draw. For more info join us on Facebook and Twitter.
Frequently Asked Questions – FAQ
What is the Result of Lotto Today
If you looking for what is the result of the lotto today? Then you are in the right place where you will find the PCSO Lotto Result Today including STL Result Today
How to Apply for PCSO medical assistance?
To avail of PCSO medical assistance, you need to follow these steps:
Secure and fill out the PCSO Medical Assistance Application Form from any PCSO office or online.
Prepare and attach the necessary documents (e.g., medical abstract, hospital billing statement, doctor's prescription, etc.).
Submit the completed form and supporting documents to the PCSO office near you.
Wait for the verification and approval of your application.
Claim the approved medical assistance grant from the PCSO office or through a partner disbursement outlet.
What are the services of PCSO?
The Philippine Charity Sweepstakes Office (PCSO) provides various services to the public, including:
Medical assistance – financial assistance for the medical and healthcare needs of marginalized and disadvantaged individuals.
Charity – donation of funds for various charitable projects and programs in partnership with government agencies and non-government organizations.
Disaster relief – provision of relief assistance to areas affected by natural and man-made disasters.
Livelihood programs – funding for livelihood and entrepreneurship projects of marginalized communities.
Games and lotteries – organizing and managing games of chance such as lotteries and sweepstakes to raise funds for PCSO's charity programs.
Don't forget to visit PCSOgames.com to check the latest lotto results in Pinillipines and the STL results. Wish the best for you!
This page shares the PCSO 6/42 lotto result today, swertres result includes the Small Town Lottery (STL) Game Results.